Regina
Prof. Yehezkel Kaufmann 2, Tel Aviv-Yafo, Israel
---
Atmosphere of home, Event, Fish, Israeli, Mediterranean, Vegetarian, Wine bar
Sun-Thu 10:00AM-.2:00PM / Fri. 10:00AM until 1:00 before Shabbat / 1:00 after Shabbat until 2:00PM
Why come to this restaurant ?
Regina is a kosher restaurant in tel aviv, set in a breathtaking Mediterranean building, constructed in the 19th century.
For those who love Hatachana, the latest place to see and be seen in Tel Aviv, a Kosher restaurant has finally opened!
Complete with a large courtyard, private rooms, and décor with a provincial feel, Regina serves Eastern European food with an Israeli twist.
Don't hold yourself back! Regina is also the perfect place for receptions, family dinners, or Sheva Brachot, either outside or in one of their rooms inside.
They offer many traditional dishes along with fusion dishes based on the evolving jewish kitchen. You will find for example : rustic chopped liver, hungarian goulsh, morocann fish and many more specialities..
Menu Highlight
Starters :
Ceviche, fresh fish cubed and cured in lemon juice and olive oil, served on a bed of cilantro and seasonable vegetables 68 ₪
Rustic chopped liver, a platter of rustic chopped liver, served with red onions, seasonal confit, and bruschetta 42 ₪
Graved Lox, strips of salmon on a bed of chopped red onions, tomatoes and lemon, served with bruschetta 63 ₪
Main Courses :
Hungarian Goulash, with potatoes and carrots, served with white rice 76 ₪
Thin and crispy schnitzel, served with fries, vegetable salad and pickles 68 ₪
Asado, strips of beef ribs, slow cooked in beef gravy, soy sauce and silan served with white rice 98 ₪
Desserts :
Chocolate Souffle, hot chocolate cake served with fine belgian chocolate 38 ₪
Pecan Pie, crisp butter flavour pastry filled with almond cream, pecans and caramel 42 ₪
Drunken Pear, pear halves baked in wine with cinnamon and plums, served with vanilla ice cream 44 ₪
Convenient for children

Internet (wifi)

Kosher for passover

Romantic

Terrace

VIP room
Want vouchers and the latest news from our restaurants?
GET OUR WEEKLY NEWSLETTER!

Information request

Menu

- Free coupon

Coupon treatment
Display the coupon

Perfect if you are currently at the restaurant

Print the coupon

To print this coupon

Receive the coupon by email

This coupon will be sent to your mailbox at

Regina

- Celebrate an event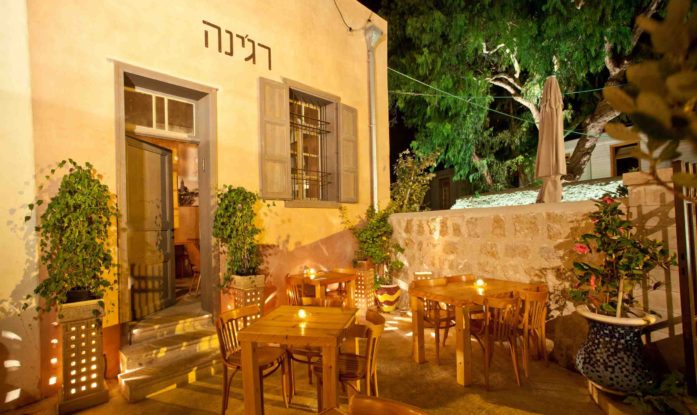 In our Garden
In our lounges
In the Exterior Yard
Regina is a magical place to celebrate any type of event, from 25 to 100 people, you can enjoy the Neve Tzedek Tahana, unique place in Israel. Regina will seduce you with its service and sense of service!

Reservation