Nori
Ha-Tsoran St 4 Netanya 
---
Asian, Atmosphere of home, Fish, Japanese, Take away
From Sunday to Thursday 11:30 to 23:30
Why come to Nori ?
Nori is an amazing japanese restaurant located in Netanya where you will find a lot of different asiatic specialities. It's the spot for the freshest and most authentic sushi.
Fresh products : Sushi-maki- sashimi are delicious of course but especially the Fried Chicken with lemon and chili or the Salmon Filet marinated in miso sauce that attracts gourmets. Good Work!
Always a warm welcome in this restaurant that will make you travel on the other side of the world with a diversity of dishes with a variety of flavors.
Menu Highlight
Starters :
Panko fired Cauliflower– Fried cauliflower pieces. Served with aioli yuzu
Tattaki fillet – Cold Slices of scalded beef fillet in black & white sesame with lemon soy. Served on a cucumber salad, red cabbage and peanuts
Chicken Wings – Eight chicken wings in Malaysian chili sauce
Foie Gras Bun – A pair of steamed buns with roasted Foie Gras, coriander and Toffy sauce. Served with Japanese pickles
Main Course :
Chicken Pad–Thai – Rice noodles, egg, carrot, sprouts, coriander, green onion and peanuts
Norita – Entrecote, Zucchini, peppers, chili and basil. Served on steamed rice, green onion and crispy shallot
Fillet and Foie Gras – Three beef fillet medallions with roasted Foie Gras on top, with a side dish of your choosing
Salmon Fillet – A salmon fillet with a side dish of your choosing
Double Salmon Sushi – Spicy salmon, cucumber and green onion. Coated with salmon and panko chips
Desserts :
Crunchy Nugget – Served on dark chocolate, chocolate crème and crème brulee, coated with nugget and bagels
Pavlova – Meringue filled with vanilla crème and passionfruit, dressed with forest fruits sauce
Chocolate Fudge – Hot chocolate cake, rich in chocolate and flourless, served with an ice cream scoop
Sabrina – Yeast cake dipped in sugar syrup, filler with vanilla crème and forest fruits
Air conditioning

Convenient for children

Free parking

Gluten free

Handicap accessibility

Internet (wifi)

Menu in English

Menu in French

No smoking

Take away
Want vouchers and the latest news from our restaurants?
GET OUR WEEKLY NEWSLETTER!

Information request

Menu

- Free coupon

Coupon treatment
Display the coupon

Perfect if you are currently at the restaurant

Print the coupon

To print this coupon

Receive the coupon by email

This coupon will be sent to your mailbox at

Nori

- Celebrate an event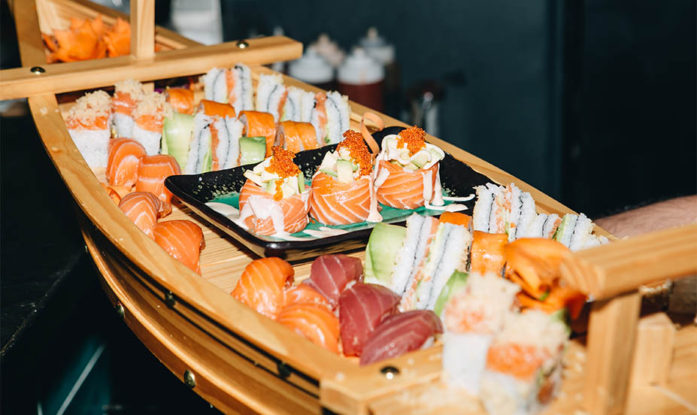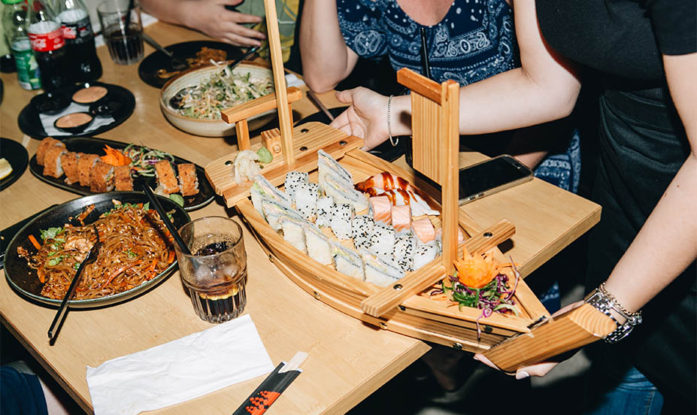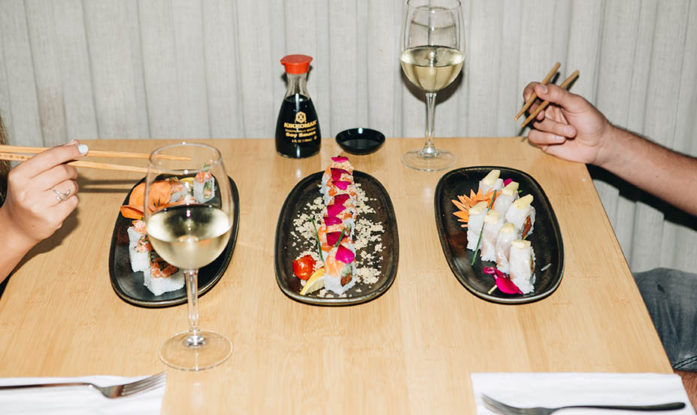 For all your events, Nori is here to transform it in a wonderful Japanese event! Until 60 people in a warm welcome and delicious dishes and huge plates of sushi to share.

Reservation